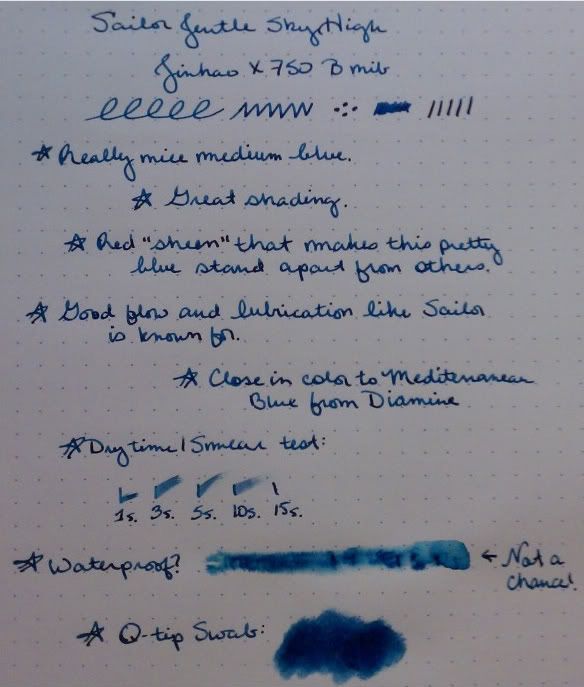 I received this ink as a sample from my Goulet Pen Company Inkdrop for June. At first, I must admit that I wasn't too impressed. It reminded me a great deal of Diamine's Mediterranean Blue, of which I already own a bottle. Then something glorious happened… I saw the sheen.
First things first, this is indeed a pretty medium blue with lots of shading. I like Mediterranean Blue, so there is no fault in the hue. Where Sky High improves upon it is in the beautiful red sheen that can be seen where the ink pools up a bit. The sheen is some sort of metallic micropigment or something, that when added to the blue color gives an almost purple-ish look that is so attractive. I've used (and own) several other inks with this element, but this is one of the prettiest that I've seen. When going for this effect, one must use a pen that puts down a lot of ink and paper that is not super absorbent. I've gotten good results on both Rhodia and Staples Bagasse. Here is a macro shot where you can really pick it up:
I have grown to really love Sailor inks because they have such an awesome flow in my more finicky pens. Sky High is no exception and where lesser inks will skip in my Jinhao X750, this offering from Sailor performs admirably. The dry time is on par with other inks I've used, not very quick (especially on Rhodia with a broad nib), but not too bad either. It is NOT waterproof, and you certainly cannot read the "smeared w/ a wet q-tip" that I wrote to test that aspect.
Overall, this is an excellent ink, and I have already added it to my birthday wishlist!
To read more about the Goulet Inkdrop Program, click here.
Lastly, I must thank my Sister-in-law, Leilani, who gifted me with my Inkdrop membership as a Christmas gift!
A few more shots: