Well I can honestly say that I am thrilled with the new Noodler's Flex Nib Pen. The first time I filled it, I put the newest ink offering from Noodler's, Black Swan in Australian Roses in. Using this pen to the maximum potential took some getting used to, but WOW! I still cannot say that I know what I am doing, but the learning curve with this pen isn't bad at all. This is the first time I have ever used a flex nib, and the experience has been more than rewarding.
I wrote my review the first night I had the pen, so it is not the greatest representation of what this pen is capable of. On the other hand, I feel like this pen is kind of intended for folks who don't have a lot of experience with Flex pens, so an honest portrayal of what things are like starting out is fitting. I wasn't sure if I would like a flex nib or not. I did not want to have to alter my writing to fit one pen. I do feel that this pen can be used reasonably without having to slow down so much that it makes letter-writing or journaling a pain. When you do slow down though, oh my! The line variation between flexed and un-flexed just looks outstanding. While we here at The Poor Connoisseurs are indeed poor, I didn't feel too terrible chancing $14 on a pen I wasn't sure if I would like. Having tried it now, $14 is an ABSOLUTE STEAL! This has pretty much become my favorite pen, although my dear Sheaffer is still amazing. People seem to either love this pen or are completely unimpressed. Count me in with the former crowd. The nib does give a "rail roading" effect when it is fully flexed and moves too quickly. As I have learned to use it more, this has lessened, but I don't really mind it, and I think the effect looks cool.
The Flex pen is a piston filler, and it was also my first experience with that type of filling system. I was quite content with my cartridge/converter fill pens, because they are easy to refill and clean using the Private Reserve Syringe kit. I was not looking forward to empty/fill with water/rinse/repeat schtick to clean this Noodler's pen. I did my first routine last night, and I was pleasantly surprised! The pen came clean without too much hassle, and the nib and feed were also very easy to remove, which sped things along nicely.
I have since refilled with J. Herbin 1670, and that ink looks stunning as well. I did have a problem starting it up today, so how big of an issue that is remains to be seen. I never had a problem with Black Swan.
Which brings me to the ink! It is also a very nice offering from Noodler's! From what I gather, the intent with this ink was to shade like crazy, and that it does. This ink goes from a very dark, almost black color, to dark purple, then burgundy, then mauve. The effects with the Noodler's Flex pen are just epic. On the really dark, wet strokes, the ink does feather just a bit (even on Rhodia), but you don't really notice it unless you're examining very closely. This ink is not waterproof and the drying time is pretty long when very wet (we're talking minutes). In fact, I had written a card to my mother, and certain spots wouldn't dry at all. I had to carefully blot them with some cheap copy paper. Even with the slight "downfalls" of this ink, it is gorgeous, and I intend to purchase a full bottle (I initially only got a sample).
On Rhodia No. 18:
On HP 28lb. (My Goulet Invoice!)
And now a better picture, figuring out how to really use this thing:
And finally, with the J. Herbin 1670:
Photographed: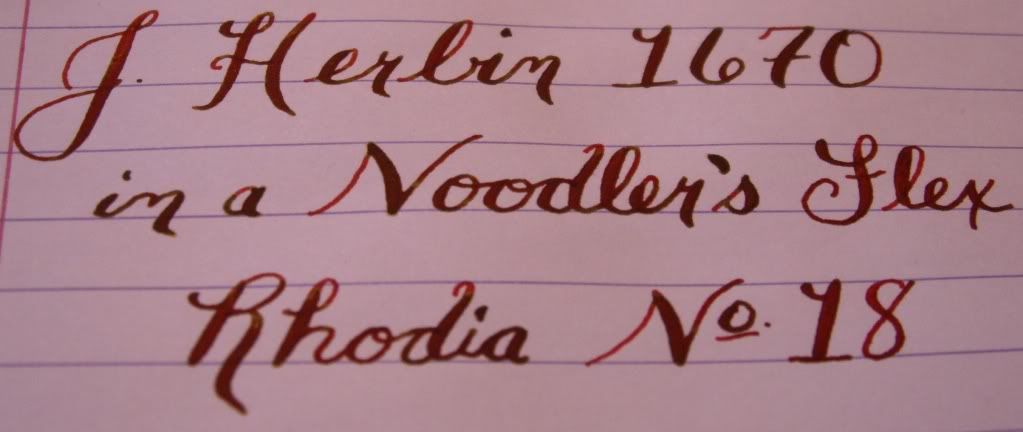 Scanned:
I recommend both the Flexy pen and Black Swan wholeheartedly, and both can be purchased from
The Goulet Pen Company
, if you are lucky enough to find these in stock before every one else snatches them up. =)
Many flexy returns,
Shay.